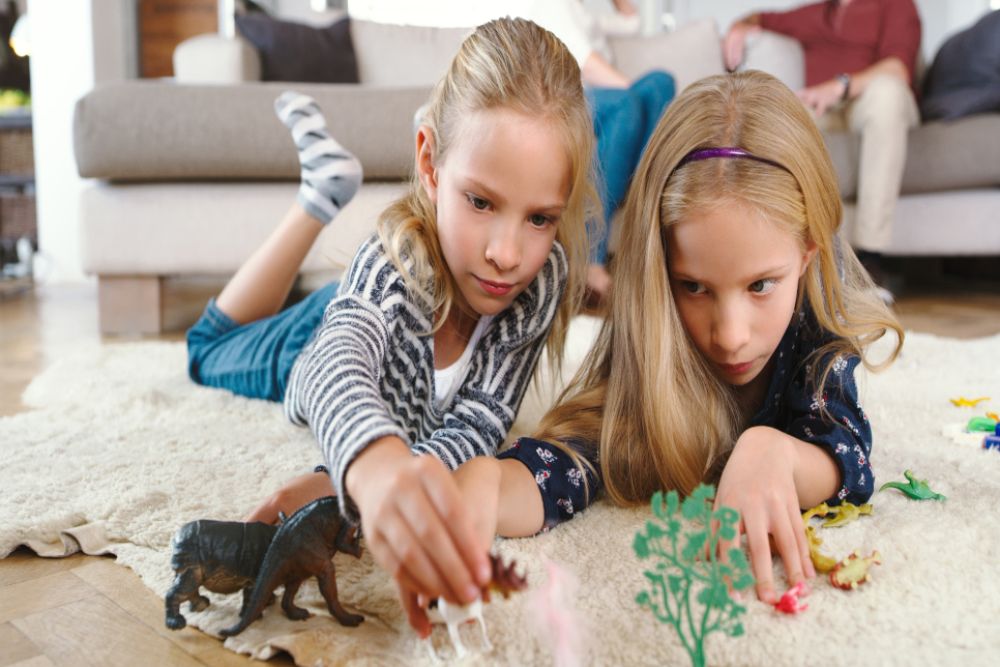 © GettyImages/1352222105
Raising twins – a special challenge?
When parents are expecting twins, they often ask whether there is anything special about raising them. Fundamentally no, says psychologist Melanie Henriks-Luckinger.
"When you find out on the ultrasound that the child isn't alone, it can be a bit of a surprise – you don't expect it," says Melanie from her own experience. The first questions primarily relate to the pregnancy: how do I cope with it? Can I keep both children? "Keep a positive attitude, follow the motto 'we can do it'", recommends Henriks-Luckinger.
Preparing for the new arrivals in the household can also be a source of concern: space for two beds instead of one, choosing a pram and many other things. Mothers of twins often worry about breastfeeding correctly. Henriks-Luckinger says "talk to other parents of twins. They have already experienced it and you can benefit from their experience." If you don't know anybody with twins, various reputable online platforms can be helpful.
Once they've mastered the early topics, parents of twins often ask if there are any special rules they need to think about when raising their children. The expert says "twins have it good – they have a very close attachment figure from the start: their sibling. You need to be aware that this is the most important bonding person – the main person!" The two of them will communicate with one another, need one another and will definitely relate to one another from the start. Henriks-Luckinger says "it's a great start in life!".
She doesn't think there are any special rules about raising twins. Like with every child you should encourage the individuality of each one – they should each get to be themselves. Putting both of them in the same clothes shouldn't become an obsession. "Let them choose their own clothes as soon as they can."
Parents can only support possible rivalries and competitions by telling the children they love them equally no matter what each of them can do and achieves. That could be a challenge. Henriks-Luckinger does have one recommendation: spend time with each individual twin, it will be good for them.
Asked for the three most important tips for parents of twins, the expert says: 1. Stay calm, 2. Look after yourself 3. Keep a sense of humour!
In Austria, there are counselling centres in every state that offer supported discussions of this type free of charge. You can use the search function on our website to find a suitable facility near you. Make an appointment.
Our interview partner
Melanie Henriks-Luckinger is a clinical and health psychologist and provides her expertise through counselling sessions at Inklusion Kärnten in Villach, Carinthia.
Inklusion Kärnten
Moritschstrasse 2/1
9500 Villach
Website of Inklusion Kärnten
The interview was conducted in December 2022.